Spring Training Week 2022 – Tampa, Florida
PDBC is hosting a 6-day training camp in Tampa.
Dates:
All PDBC competitive and recreational athletes will participate during the same week.
April 25th - April 30, 2022
Athletes should be prepared to travel April 24th, 2022 and May 1
Training will focus on technique, team melding and preparing for the upcoming season.
We will be attending the Tampa International Regatta as part of the camp, on Saturday, April 30th, 2022.
Location:
Paddling will occur on an inland waterway right beside the Chase Suites, Tampa.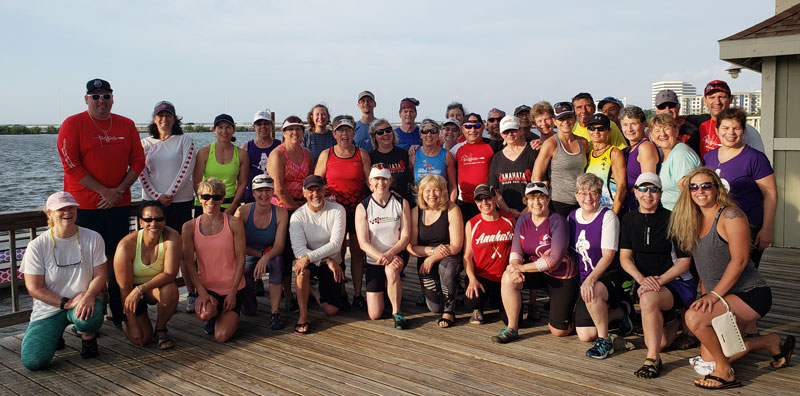 Description:
A 6-day, intensive training camp to kick-start your 2022 on-water season!
Two paddle sessions daily at 8:00am and 4:00pm
9 dragon boat practices
A dragon boat regatta on the final day (Tampa International)
1 afternoon off and a group social Friday night
2 video review sessions per athlete
Registration:
Please register using your division link (on the left of the page) or email membership@pdbc.ca for more information.
Please note that athletes should register by January 15th, 2022. If you are registering after this date please contact membership@pdbc.ca to ensure that there is space.
Due to the upfront nature of this event we must outline the special cancellation policy in place:
After January 31st, 25% of the fees will be non-refundable
After February 28th, 50% of the fees will be non-refundable
After March 31st, 75% of the fees will be non-refundable
After April 1st, 100% of the deposit will be non-refundable
If PDBC is forced to cancel the event, due to the pandemic or any other circumstance, then all athletes will receive a full 100% refund.
Cost:
$450 including HST
This fee covers all training sessions held throughout the week, as well as the entry fee to the Tampa regatta.
Food, accommodation and travel are not included.
Accommodation:
Reservations are the responsibility of the athletes. We highly recommend Chase Suites, however, due to other events in the area, we recommend booking as soon as possible.
To book your accommodations:
You must call the office number at 813-281-5677. Ask for Maritza. Reservations will not be accepted online for this booking.
All reservations must be guaranteed with a first night room deposit or guaranteed with a major credit card.
Indicate that you are part of the dragon boat camp (Pickering Dragon Boat Club)
Follow their instructions to reserve your space
Our deadline for booking hotel accommodations under our group reservation is January 31, 2022. After January 31st, we cannot guarantee space will be available at this location.
Questions?
If you have any questions about the Spring Training week please contact membership@pdbc.ca