Ontario Youth Dragon Boat Championships
Sunday, June 4th, 2017
Go to:
Registration
Fees
Schedule
Forms
Rules of Racing
Location

On June 4th the Ontario Youth Championships will return to Pickering!
The Ontario Youth Dragon Boat Championships will be held on Frenchman's Bay in Pickering on Sunday June 4th, 2017 and will crown Ontario's fastest youth dragon boat crew. Featuring Canada's deepest field of competitive high school and junior crews, this regatta has already featured countless Canadian National Team athletes at the junior, under-24 and premier divisions and will again highlight some of Ontario's fastest dragon boat crews (regardless of age classification).
Local and regional high schools from across Ontario will compete in an international style championship regatta featuring multiple race distances. The fastest mixed crew will be declared the Ontario Champion and awarded the Ontario Youth Cup.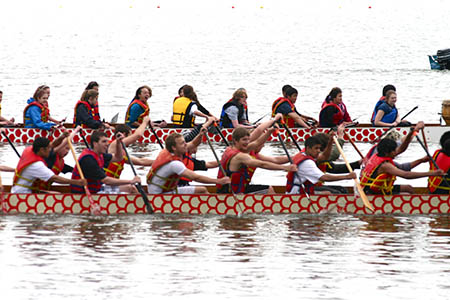 Featuring
Canada's most competitive youth regatta of 2017
Dragon Boat Canada Sanctioning: meets standards of technical operations and officiating set out by national governing body
Dragon Boat Canada certified officiating crew
Downloads & Forms
Race Format (Updated May 29, 2017)
The official race format is an overview of the day's race progression, race statistics, and awards ceremonies.
Race Progression (Updated June 1, 2017)
A detailed view of the day's races with crew names and lane numbers.
Online Waiver Form
All participants in the event must read, complete, and sign a waiver form. Deadline to complete online team waivers is Wednesday May 31st 2017 at 3pm. Afterwards, teams/individuals, must complete a paper waiver form and bring to race HQ on race day.
Roster Forms
Deadline to access and complete online roster forms is Wednesday May 31st 2017 at 3pm. Any additional changes must be presented to race HQ on race day.
Registration
Step 1:
Complete the registration form here
Step 2: Complete payment. Methods of Payment accepted are Paypal, EMT or Cheque.
If payment is made by Paypal please provide name and email of processing individual
If payment is made by EMT please email payment to scott.murray@pdbc.ca; EMT password: festival2017
Please email Katarina: sanchez.k7@gmail.com once EMT payment has been made.

If payment is made by cheque please make payable to "PDBC"
Mailing Address: 1383 Fordon Ave. Pickering ON, L1W1K1
Step 3: Please complete Team Roster/Waiver Forms
Please note payment by Paypal does not count as registration; you must complete the online registration form.

Pricing
Registration Options

Cost

Total

High School Package 
- 4 guaranteed races
- 10 on-water practices 
- Certified Coach + all equipment provided
Please email sanchez.k7@gmail.com to set up times.
$1315+hst
$1485.95
Championship Registration
entry to races only
$829.20+hst
$937
Questions?
If you have any questions regarding the Ontario Youth Dragon Boat Championships please contact us: 416-561-9089
sanchez.k7@gmail.com