PDBC Recreational Program
Description
The Recreational Program at PDBC is designed for athletes of all ages. We strive to help everyone achieve a dragon boat experience that suits their own specific fitness and exercise goals.
To facilitate this, the Recreational participants will be divided into crews of like- minded paddlers:
Advanced – experienced paddlers who are consistent with their attendance at two evening on-water practices per week throughout the season. They would have the desire to work hard, improve paddling skills and be prepared to paddle outside their comfort zone to achieve personal and team goals.
Intermediate – experienced paddlers who are looking for more emphasis on fun and perhaps paddling with their existing friends while still maintaining the competitive edge.
Development - consisting of new paddlers and those who are looking for a less strenuous workout regime, perhaps practice only once a week or infrequently 2x/week, but still enjoy the exercise, camaraderie and social aspect of being out on Frenchman's Bay with 19 of their closest friends and new friends!  We are one T-E- A-M, we are all PDBC – the above "crews" would be practicing together, each with a coach. Throughout the season these crew members may switch around as appropriate.
2018 Training Schedule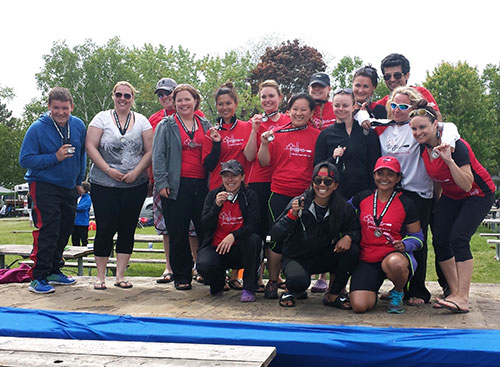 Beginner/Intermediate/Advanced
Tuesdays & Thursdays 6:45 – 8:30pm 
First practice: Tuesday May 1st 2018
Last practice: Thursday September 6th 2018
Wednesday Mornings 9:00 – 11:00 am
First practice: Wednesday May 2 nd 2018
Last practice: Wednesday September 5 th 2018
July 11 to 31 inclusive will be ($10/practice) Pay-As-You-Go – Tues/Thurs & Wed
2018 Regatta Schedule
Regatta Schedule for 2018 applies to all Recreational crews. If there are any changes the coaching staff will communicate to crews as soon as possible.
Regattas Included in Registration Price:

Pickering Community Festival June 2nd & 3rd
Guelph Dragon Boat Challenge  August 11th
GWN - Marilyn Bell Park September 8 & 9th
Optional Regattas:
Toronto Women's DB Festival May 27th
Peterborough DB Festival June 9th
Christie Lake "Amazing Races" Sept 22nd
2018 Important Dates:
March 3rd Kickoff Meeting at P3 Paddle Zone
End-of-season Banquet November 3rd
Registration Information
*Cancellation Policy Information*
Cost:
Two Practices/week - $400 including HST
One Practice/week - $250 including HST
Includes:

Summer Program Practices (May 1 – September 6)
3 Regattas
Special Events:
Kickoff Meeting March 3rd
End-Of-Season Banquet Nov 3rd
Does Not Include:
Racing Jersey
Fall Paddling - $115 including HST
Two steps to register:
Step 1.
Complete our registration form
Step 2. Complete payment. Methods of Payment accepted are Paypal, EMT or Cheque.
If payment is made by Paypal please email danielle.albers@pdbc.ca to provide name and email of processing individual
If payment is made by EMT please email payment to danielle.albers@pdbc.ca; EMT password: PDBCRec2018
If payment is made by Cheque please make payable to "PDBC"
Mailing Address: 1383 Fordon Ave. Pickering ON, L1W1K1